In Codeor we care about your comfort in the work area, but it is also vital to your safety.
Why is it important safety shoe?
Mainly for your safety in the workplace, because with a good use of safety shoes we can avoid an accident. There shoes soles anti vibration and ankle protectors that provide added support. In addition, sturdy shoes to punctures and the also slips On the other hand, it is required by the provisions of Law 31/1995, of November 8, to protect the worker.
On the other hand, it is required by the provisions of Law 31/1995, of November 8, to protect the worker.
What are the safety shoes?
Los zapatos de seguridad son un tipo de calzado de protección dirigido a las diferentes actividades laborales y usarlos dan al trabajador la protección y confort que son necesarios para que estén cómo realizando sus labores. Cualquier persona que trabaje con maquinaria pesada, artículos peligrosos y productos químicos debe usar los zapatos de seguridad correspondientes, para asegurarse de que no ocurran accidentes. Dichos zapatos están diseñados para brindar protección contra riesgos eléctricos, resbalones y derrames químicos. Están equipados con suelas antideslizantes, materiales que protegen los pies de objetos que caen y materiales de protección metálicos o no metálicos, para una protección constante de los dedos de los pies. Se utilizan como equipo de protección básico.
Who safety shoes going?
They are aimed at different professional departments that may lead them to an accident such as:
mechanical actions: falling objects, impact on the heel, work on sharp objects. It should choose a shoe with resistance in the toe or heel must be able to absorb energy, the sole must have creep resistance and puncture.
electrical and thermal actions: low, medium and high voltage, as well as heat and cold. It should choose a shoe with electrical insulation, electrical conductivity, also thermally insulated.
chemical actions: contamination with aggressive liquids, molten metals. footwear should be chosen with strength and weathertight.
Discomfort and inconvenience to work: Discomfort by maladaptive footwear and poor flow of perspiration. You should choose a shoe with ergonomic design and permeability to water vapor, in addition to water absorption capacity.
Accidents and health hazards: Risk of dislocation and sprains because of poor foot support. You should choose a shoe with good adaptation of the foot.
Some examples of our products are:
Hospitality staff: Deportiv @ s Codeor has the freshest and anatomical solution for professionals who spend many hours in summer standing or walking.

Calzado de cordones con el corte fabricado mediante tecnología Nanoflash: no presenta ningún tipo de costura, lo que mejora sustancialmente la calidad y propiedades. Consecuencia de la inyección directa, la unión del corte con el piso no va pegada ni cosida, ambos se fusionan en una sola pieza y de ello derivan:

With a non-slip sole and a wide unisex form, it provides support for the foot without compression. It is nonslip, absorbs energy in the heel, waterproof, high breathability, resistant to tears and abrasion. Do not cracked, does not age and is washable even in a washing machine. The cut grid-type material is highly breathable, thus the thermal comfort of the shoe in this case is very high.
Personnel industries: Health personnel: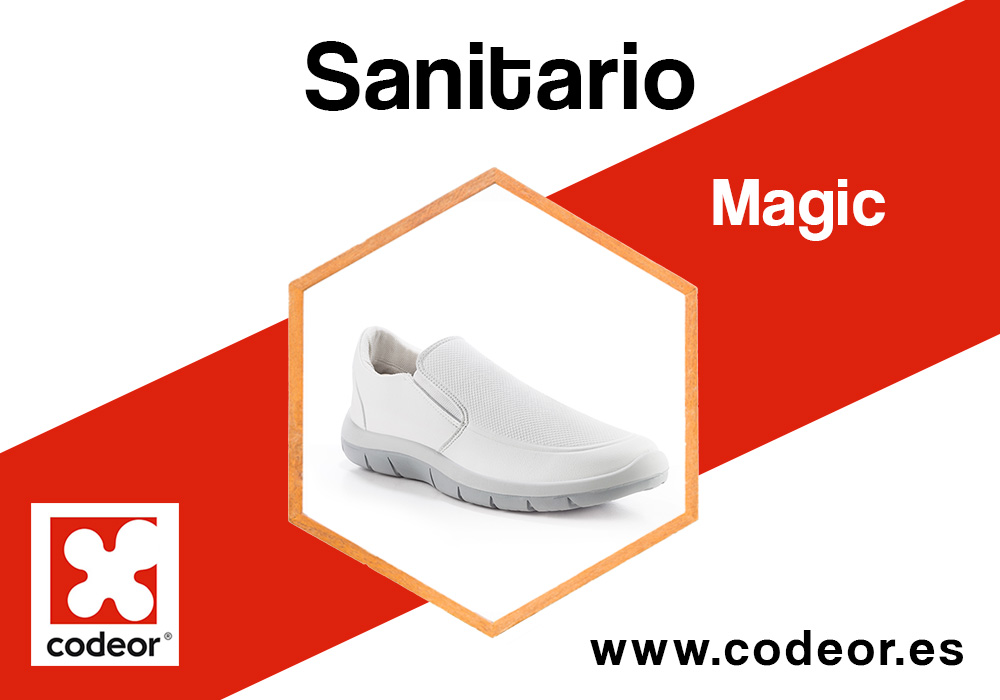 Health personnel: White Magic is a lightweight, flexible, washable and long lasting footwear manufacturing system derived by direct injection, no stitching or glue binding cutting / floor, the shoe is one piece. Bidensidad composition / bicolor floor.