MyCodeor Plus. Codeor again we go a step further.
In Codeor always looking for forefront of design work footwear and although our products are always in the highest standards in quality and comfort, we continue seeking excellence in each of them. An example of this is our new release, "MyCodeor More"Based on one of our most successful models the" MyCodeor ".
With the launch of MyCodeor we introduced to the market a revolutionary concept, The fusion between the sabot classic and a shoe, a hybrid that combined the advantages of sabot as to perspiration and absence of rubbing, adding the benefits shoe reference to ergonomics and foot support. A revolutionary concept that other manufacturers rushed to imitate aesthetics, without reaching our levels of thermal performance, durability and of course the quality that gives us the careful selection of our materials manufacturing and that makes the difference of our product to other brands.
With MyCodeor Plus we go a step further to position ourselves at the forefront in terms of comfort and elegance in design.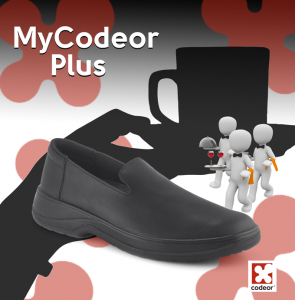 Now we anticipate again and go a step furtherPresenting the MyCodeor Plus retains all the benefits of his successor and adds to these greater protection and ergonomics in the heel, padded and lined. Microfiber cut on micro-leader of much softer and lighter but maintains 1.4mm waterproofness, breathability, resistance to chemical and that of course remains washable to maintain the highest standards of hygiene. As for the sole, it has been subjected to the most rigorous test, achieving levels of durability, comfort and unbeatable slip resistance, Designed as usual in protecting feet, joints and back also adding a design that provides the necessary elegance that many users require.
With the new MYCodeor Plus, will be more bearable in the long hours standing, and continuous shifts often have to make workers during working hours, reducing fatigue and stress to which they are subjected her feet, facilitating the development of this. all coupled with elegance which will mark its steady pace, like Codeor in an effort to overcome in each of our models in order to please the most demanding of our client.